We arrived in Houston and found a nice place to settle in for three nights.  After unloading the car and relaxing for a bit, we set out for a snick-snack at the Red Lion Pub, followed by dinner at Niko Niko's.
I've not been to England, but the Red Lion Pub transported me across the pond and it was easy to imagine being in England.  As pubs go, this place is upscale for sure.  It's spacious with lots of dark woods, leather, great ambiance, and bawdy artwork in the loos.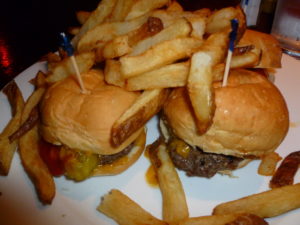 They were running a half price special on their cheeseburger sliders, so we didn't have to give much thought to what we were going to eat.  I glanced over the rest of the menu, and you will find all the pub classics.  We drew a friendly waitress and she took good care of us.  The food was fabulous and tasted even better than it looks in the pictures.  Even though it was pub grub going out for half price, we could tell that the sliders were prepared with meticulous attention to detail (which means a lot to me).  The flavors were great, and they were succulent and hot.  It was much more than I was expecting, so we were delighted.  I was sorry that we couldn't have tried more of the traditional fare, and if I had to venture a guess, I'd say that all the food is probably top notch.  There's four sliders by the way.  The picture does not do the food justice, but it's clever to put the fries over the top of the sliders and help keep them hot.
We were greeted on our way out by a very friendly and well dressed gentleman.  He asked about our experience and wanted to know if we had a good time.  I figured he could have been the manager, or possibly the owner.  I wouldn't have minded striking up a conversation, but we were on our way out the door.  The Red Lion Pub looks to be a great destination, especially if you're in the mood for British pub grub and a pint (or two or three).
We drove over to Niko Niko's and went in for a light dinner.  I don't know why I was expecting the place to be small, but it was Texas sized.  Lots of parking and huge inside.  There were at least two or three dining rooms and a large patio out front.  The place was packed too.  We figured the food must be good.
They had an order and pay at the counter system and then they bring your food out to your table.  Self serve drinks.  We had a hard time figuring out what we wanted to order, but the guy at the counter was very friendly and knowledgeable.  He assured me that I was going to love whatever I ordered.  Bold.  We weren't real hungry and we wanted to try traditional Greek food.  They have a big menu and everything looked good.  We ordered a mini gyro (which was still pretty big), and I just couldn't take the chance that I might be missing out on the best Philly cheese steak sandwich in the world, so we ordered that too.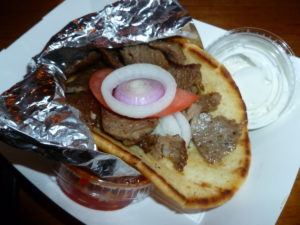 We found a table and settled in for the wait.  The food came out promptly and it was piping hot.  The gyro was excellent.  It was only our second one (after Georgia's in Seattle), but the meat was delicious and the pita was warm and fresh.  These were both in contrast to the crisp vegetables and the hot sauce.  It's no wonder that it's such a popular sandwich.  I'm not an expert on gyro sandwiches yet, but this strikes me as a great effort.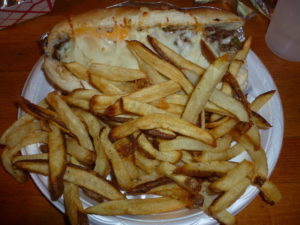 The Philly wasn't the best in the world, but it was a good showing.  It was hot, good sized, lots of cheese, and good flavor on the meat.  It was fun to eat and we finished the whole thing.  All in all, I liked the place and it seems to be crazy popular.  I'd be happy to go back and sample the rest of their menu.  I still haven't had Moussaka. It's a great example of comfortable casual dining.  In addition to the wide array of hot foods (with the irresistible aromas wafting out of the open kitchen), they also feature a bakery and dessert case.  We were too full to enjoy any of that, but it looked good and I doubt that very many people leave there hungry.
We started the next morning with an exploration of an old historic area called Houston Heights.  We stopped and threw our ring at a corner park, and then walked through the shopping district which was full of antique malls and galleries.  We wanted to be sure to work up a big appetite.
We were good and hungry by the time we arrived at the long awaited Lankford Grocery.  The place was packed inside and out, and decorated for Halloween.  We were lucky to get a good booth and I promptly set off for the back to meet Eydie.  She had said to find her in the kitchen and that's exactly where she was.  I thought she was great on the show and I knew the burgers were legendary.  Especially the infamous Firehouse Burger.  Oh yeah.  There was no doubt about what I was ordering.
It was a pleasure to finally meet Eydie in person.  She was very warm and friendly, even though she was right in the middle of a lunch rush.  She looked like a million bucks and was just as gracious as she could be.  It was obvious that she was running the kitchen, but she was also keeping a watchful eye on the dining room.  If I have my facts straight, Eydie has been there her whole life (or close enough) and so she can take in the whole place with a casual knowing glance.  It was like she was conducting an orchestra, and nothing gets by her.
Back at the booth we got prompt and friendly service.  Of course everything on the menu looked great.  In addition to my order, we picked out the chili dog with the house made chili.  Our order came out quick and the chili dog was picture perfect.  A nice big hot dog, completely smothered in mouth watering chili, topped with gobs of melted cheese and fresh chopped red onions.  To me, that's as good as it gets.  Perfection on a plate.  It's a crying shame that I couldn't really eat it.  I sure tried.
Although the picture doesn't begin to do it justice, the Firehouse Burger is massive.  All the burgers at Lankford Grocery are at least half a pound.  I took the obligatory photos, knowing the whole time that I was getting ready to set my mouth on fire.  In case you missed this show, the burger hits you with a triple-whammy.  The flat-top griddled burger is cooked in a cayenne butter, and the bun is dressed with a chile mustard sauce that contains fresh habanero, jalapeno and Serrano chiles, onions, radishes and prepared yellow mustard.  Crazy hot, crazy good.  As if that weren't enough, how about a nice big hand full of pickled jalapenos to go with it?
It was a proper Texas burger, big and hot.
I managed to pick up the Firehouse Burger and get a good hand hold with both hands.  I started into it and couldn't wait to see what was going to happen with the first bite.  Actually, I took about three or four bites to get a good sampling of all the ingredients.  The heat kicked in and I was in love.  Once I had a good view of the inside of the burger, I was never so happy to see piles and stacks of pickles, onions, tomatoes and lettuce… anything to help absorb some of the heat.  I didn't want to set the burger down, so I just kept eating away at it, one delicious bite after another.  Yeah, it was hurting, but the burger was so good I wanted to eat it while it was hot.  I ate about two thirds of it before I finally sat it down for a break.
I tried to sample the chili dog, but the hotness of it burned my mouth.  I couldn't taste it.  If I was smart (and that's a big if), I should have sampled the chili dog first.  I really wanted to taste the chili, but my mouth was too far gone.  Anna says I was sweating like a pig, and suggested that I didn't finish the rest of the burger.  No way that was happening.  I told her I was just resting.  I picked it back up and promptly devoured the rest.  It was a great experience.  Yes, it was a lot of heat, but not so much that you couldn't enjoy the great flavor of the meat, cheese and other ingredients.  I can't say I'd be in a rush to have it again, but it was definitely an experience worth having.
After it was over, Eydie confided to me that she made Guy Fieri's burger about ten times hotter than mine.  Ouch.  She said that she wanted him to be sure to taste the heat.  Of course, he dug it just as much as I did (although I doubt he finished all of his).
We stayed long enough to where Eydie and the girls were able to sit down and chat with us for a few minutes.  Some of the feeling was returning to my mouth.  They were getting ready to visit Las Vegas and so we wanted to share all the DDD stuff there, especially the Stromboli at the Four Kegs.  We also talked about Texas burgers, and raved about some of the killer barbecue we'd been having.  We had a great time, and managed to get a photo with Eydie and the rest of the lovely crew.  From left to right we have: Claire, Cherie, Shelby, Eydie and Robin.  As you can see from the picture, Lankford Grocery would be wildly popular even if the food wasn't so great.
Eydie was enjoying the conversation about burgers and I mentioned the Tostada burger at Chris Madrid's.  She said they had a similar burger called the Frito Burger with the house chili and corn chips.  Ooooooh.  I told her I didn't see that on the menu or I would have ordered it.  It was on the special board, and of course I was crying that I wasn't going to get one.  I was too full, and we had no plans to go back.  Although that was sad, the visit was great and we had such a good time that we didn't want to leave.  We finally had to tear ourselves away so they could get back to work and finish their long day.  Lankford Grocery is also open for breakfast, and I'm sure that must be a lot of fun.  I hope to make it back, and it gets our highest recommendation.  If you ever make it anywhere near Houston, Lankford Grocery is a must.  Show up hungry and get yourself a burger done right.
We drove over to the Galleria Mall and spent the rest of the afternoon knocking around there.  I think they said it was the biggest mall in Texas.  It even has an ice skating rink.  We didn't buy anything, but it was fun to walk around and look at stuff.  One place was sporting a funny tee shirt with two lists.  On the left was a very long list of ways to impress a woman.  On the right was a very short list of how to impress a man.  It read, "Show up naked.  Bring food.  Don't block the TV."  It made me laugh because I had written a whole chapter in my book Living On Purpose about how to please men and women, and here it was succinctly put on a tee shirt.  I never cease to be amazed at how easy we men are to please.  It may not be anywhere near as easy to please a woman, but it sure is fun to try.
The mall was within walking distance to Kenny and Ziggy's, just a few blocks up the road, and so that was our master plan for dinner.  It was fully dark by the time we made it to Kenny and Ziggy's.  We weren't starving to death, but we were hungry.  We were thinking to split a Reuben.
Although I am not an expert, I think Kenny and Ziggy's is supposed to be like a New York Deli.  The place is huge, with a very long glass case proudly displaying their wares.  The dining room has that definite front to back New York feel, but this place is elegant, casual, clean and comfortable.  It sported wainscoting, polished brass accents and a show business theme with posters, playbills and caricatures.  We got a great booth near the back and our waiter, Jorge, took excellent care of us.
We struck up a chat with the Manger, Andy, and asked him about the difference between their corned beef and their brisket.  He brought us out a generous sample of both, along with a sample of their pastrami.  They were all good and we liked the corned beef the best.  I had forgotten what they made on the show, and we were told that they made something called Kreplach. The owner, Ziggy, said on the show that it was like a Jewish won ton. Ziggy is a third generation deli man and he is dedicated to preserving eastern European Jewish foods. The Kreplach are little dough pouches filled with a mixture of seasoned brisket and caramelized onions which are ground together.  Once filled, the Kreplach are boiled and then fried.  They are quite tasty, and something you don't get every day.
We ordered the Kreplach, and something amazing called the Reubowski, which is a giant hamburger with corned beef on top.  Cheeseburger meets Reuben.  As you can see from the picture, the towering burger was big and juicy and tasted just as good as it looks.  It was so good, I really didn't want to share it.  All the luscious fillings were melt in your mouth tender.  The burger is accompanied with fries and Cole slaw; all good stuff.
We confessed to Andy that we had never tried Matzo Ball soup, and he insisted that we have a big bowl, their treat.  The soup was delicious and it was getting to be a whole table of food.  It was my first Matzo Ball, and the flavor reminded me of saltine crackers.  The chicken and noodles were hearty, and the broth itself was mild.  I'm more used to a chicken noodle soup with lots of salt and pepper, but I can appreciate the idea of just enjoying the flavor of the chicken itself.  It was certainly a nice treat and apparently the soup is wildly popular with the regulars.
We ate till we were stuffed and just about the time that we were getting ready to waddle out of there, Andy came back to the table, after having learned that we were going to leave without dessert.  He thought we should try their cheesecake, and again, it would be their treat.  That was certainly an offer we couldn't refuse.  Andy himself is not Jewish, but he had been working there for many years and was quite proud of the quality of their food and service.  I'd say it's well deserved.
We agreed to the cheesecake, and said that we would just share a little piece.  Famous last words.  The cheesecake was humongous… must be a Texas thing.  You can't get a good sense of scale from the photo, but it was the biggest slice of cheesecake that we had ever seen.  It was more than big enough for two people, and Jorge said that was their normal portion size.  Okay.  We dug in and as we savored that first bite, we just looked at each other in wonder.  It was without a doubt the best cheesecake we had ever had.  It was rich, sweet, light, piquant, with the most amazing mouth feel.   It's like they set out to make a cheesecake that is light as a cloud, but as rich and creamy as something gooey and heavy.   It was incredible.  No accident either.  Apparently they fly in the best New York cheesecakes from time to time and have blind taste tests.  How's that for quality control?  So, don't take my word for it.  Go try the cheesecake and see for yourself.  Fair warning, once you have this cheesecake, you'll be spoiled.  It wasn't easy to keep chipping away at this massive slice of cheesecake heaven, but the thought of letting even one bite go to waste was too much to bear.  I'm happy to report that this cheesecake makes my Top Ten list for favorite sweets.
From what we can tell, it's too bad the owners weren't in because we missed some entertainment.  Andy was a consummate pro and if I needed to hire a restaurant manager, I'd want him or someone just like him.  We went in thinking to just split a sandwich, and we ended up having a great time and really enjoyed the place.  Next time I make it to Houston, I'm going back for the Reuben and some more of that cheesecake.  Kenny and Ziggy's gets top marks all across the board, and is officially my favorite Jewish deli.  We were happy to have the walk back to the car, and we took our time about it.
We spent quite a bit of the next day in traffic.  Yuck.  We first drove down to Rosenberg to sample the tacos at Bob's Taco Stand.  The traffic was terrible and we were not in the best of moods when we arrived.  We had plans for lunch at T-Bone Tom's so we just ordered a couple of tacos to try them out.  Sadly, they were out of the barbacoa, but we tried two other meats:  carne guisado and chicharron guisado.  I appreciated the hand made tortillas and they were delicious.  The meats were a bit of a miss for us.  The chicharron was flavorful, but tough; while the carne guisado was succulent and moist, but didn't have much in the flavor department.
Bob's is a nice little place and the staff was friendly.  They are also famous for their snow cones, but we weren't in the mood.  I'd definitely go back and try some more of their food if I happened to be in Rosenberg.
The grand plan was to drive from Bob's Taco Stand to T-Bone Tom's, both of which are well south of Houston.  I'm getting so used to blindly following Jill that I didn't think to scope out the drive before we left home (or bring a map).  I knew there was a lower beltway, which would get us there without driving back to the middle of Houston.  But, what I didn't realize was that the lower beltway is a toll road, and Jill was inadvertently set to avoid toll roads.  Oops.  I kept driving closer and closer to downtown Houston, wondering why we hadn't turned off yet, and by the time we made it all the way back to the middle of town I was furious.  I knew we were driving way out of the way, but I didn't know why, and I was mad at myself for not having a map with me.  I can pull up maps on the smart phone, but I can't read them while I am driving.  They were doing construction everywhere and the traffic was horrendous.   We did finally make it to T-Bone Tom's, but what I loosely thought might be a nice thirty minute drive through the country, turned out to be a nasty hour and a half through some of the worst traffic ever.  That will teach me to be dumb.  I studied the maps at home before we left, and had all the places plotted out, but I didn't work out this one particular trip.  It was a fluke.
We arrived at T-Bone Tom's and it reminded us of Santa Cruz; a little boardwalk and amusement park next to the water.  It's a big place and it has one of those outdoor type patios with lots of seating, a bar, and room for a band.  It was very impressive.
We got a nice table and ordered two of the dishes from the show:  the sausage with barbecue sauce and the Armadillo Eggs.  We got to meet the general manager, Anna, who was featured on the show.  I liked her on the show and was hoping to meet her.  I was not disappointed.  She was very warm and friendly and gave us the big tour.  We asked how long she had been there.  Get this… 39 years, and not even a hint of slowing down.  We noticed a lot of the people we met in Texas seemed to have their jobs for a long time (which is great).
The sausage was tasty.  It wasn't particularly hot (with fire) but it may have sat and cooled off while we were talking with Anna.  The sauce was excellent and paired well with the sausage.  The sausage wasn't particularly spicy either, but it did have a nice smoky flavor with the sauce.  The Armadillo Eggs were awesome.  They were featured on the show, and the Houston locals we met in Phoenix said to be sure to try them.  What they are is barbecued brisket that is ground up and mixed with some of the barbecue sauce.  This meat mixture is then stuffed into a pickled jalapeno, double coated in bread crumbs and deep fried.  It is served with Ranch dressing for dipping.
I thought they were great.  Anna is not into chiles like I am, so they weren't as big of a hit with her, but she helped me eat them.  I thought the flavors all worked very well together, and that it had just the right amount of deep fried breading.  They were cooked perfectly.  My hat is off to the creator of this funky appetizer.  It's inspired.
Despite the good food and the nice visit, we knew we still had all that nasty traffic to drive back through, and so we could have enjoyed ourselves a lot better than we did.  We didn't leave hungry, be we didn't order meals either.  By all means, go to T-Bone Tom's; but make sure you're hungry and have a big meal.
After we finally made it back to town, we found a music store near our dinner destination and I sat down to a top of the line electronic drum set and had a ball.  If there was any lingering doubt that I wanted them, that clinched it for sure.  I left in a much happier mood, and found Anna in a much better mood as well (in the pet store).
Our dinner destination was Cafe Pita, a Bosnian restaurant, which was a brand new thing for us.  The restaurant is very nice inside, with comfortable tables, nice artwork and a big mural on one wall featuring a scene from the Olympics.  The place was decorated to appear as an outdoor village or maybe a town square.  I liked it.  We ended up getting our food to go however, and we ordered a pizza and a dish that was featured on the show called Cevap (che-vop).  Our order was brought out by the chef and owner himself, Omer, who thanked us for coming in and treated us to a slice of Baklava Cheesecake (which Anna enjoyed).
The pizza was good, but the Cevap stole the show.  In case you missed this episode, it's basically a sandwich with beef sausages.  The ground beef is seasoned and pressed by hand into little sausage links.  They are then fried and served on a special bread called Lepinja.  This bread is amazing.  It's round and soft like a pita, but it has an English Muffin type of texture with lots of nooks and crannies.  It was moist, hot and succulent.  It is served with diced onions and a special sour cream sauce called Kajmak.  You pull off hunks of the bread and then make little sandwiches.  The little sausages had a great flavor profile with lots of garlic, and they were cooked perfectly.  The real kicker was the bread.  I just watched the segment and I see what made it so awesome.  They dip the bread in beef broth and grill it with the sausages so the flavors meld.  It's a great dish and I give it my highest recommendation.  Next time I make it to Houston, I will go back and have the Cevap again (or anywhere else I come across it).  Next time, I'm going to ask Omer how he makes such awesome bread.  It looks like a hearth bread.
On our last morning in Houston, we were planning a leisurely departure with an early stop for lunch at Hullabaloo Diner up by College Station.  We were already on that side of town up in the northwest.  The thought of loading up the car and driving through the gnarly traffic back to the middle of town was about the last thing in the world we wanted to do.  And yet, I was haunted and tormented over the thought of leaving town without going back for the Frito Burger at Lankford Grocery.  It was not on the itinerary, and in fact would screw up the plans I made to arrive starving at the Hullabaloo Diner.  Still, I was afraid that if I left town without having the Frito Burger… I may never forgive myself.
We arrived back at Lankford Grocery at the stroke of 11:00 which is when they start lunch.  I walked up towards the kitchen and when Eydie turned around and saw me coming she said, "Hi Ken" without missing a beat.  It was like we were old friends (or maybe she just knew I'd be coming back).  It was great to see her and the girls again.  Eydie cooked the Frito Burger for us herself and it was a thing of beauty.  The picture doesn't do it justice, but it was a magnificent burger.  I don't know why it never occurred to me to make one at home, but I'll be looking forward to trying it out.  We polished off the burger, licked the paper, said our goodbyes, and hit the road.  We had to get out of there before we couldn't resist the Chicken Fried Steak any longer.  That's the Tuesday special.  If I lived in Houston, I'm sure I'd be eating at Lankford Grocery every week; and it easily makes the list of my Top Ten favorite places in Texas.
We stopped at a motorcycle dealer on the way out of town and then made the fairly short drive up to the Hullabaloo Diner.  We had a good appetite and were looking forward to some great food.  The diner is an old dining car which had been transported out from the east coast and lovingly restored on sight.  The current owners set it where it's at, restored it, and added on to it.  It's a nice big place and has a full bar and other seating.
Our waitress, Kaneda, took good care of us and I asked if the owner was in.  The owner, Rich, was not in; but his son Richie was.  I told Richie that I was on a quest for the world's best Philly cheese steak sandwich and he said he would fix me up. It's like I was trying to do the Jedi Mind Trick…You will make it yourself.  You will fuss over every little detail as though your life depends on it.  It will be the finest sandwich to ever come out of your kitchen.
Anna ordered a chicken fried steak sandwich.  Actually, the menu is awesome and there is so much good stuff on it that it's very hard to pick one thing.  I knew the chicken fried steak would be good, but the meatloaf looked good too.  We chatted a bit with Kaneda (pronounced like Canada) and she is getting ready to get hitched.  She'd been working at the diner for six years, so she was already a seasoned pro (and an interesting character).
By the time our food arrived, we were giddy with anticipation.  We took the photos and dug in.  The Philly was fabulous; easily one of the best I have ever had.  As you can see from the picture, it was cooked perfectly.  The steak was cooked with onions and mushrooms and it was all topped with melted provolone cheese served on a specialty grilled bun.  I was one happy camper.
Anna's sandwich was gigantic and I was happy to deduce that she would need my help to finish it.  The fries that came with her sandwich were crispy, crunchy, GBDelisciousness.  I asked Richie how he got them that way and it turns out that they actually can buy them frozen like that with some kind of a coating or something.  They sure were good, and it makes me wonder if that's the same reason why I loved the fries so much at the Kodiak Grill in Idaho (the owner never did get back to me on that recipe).
The chicken fried steak sandwich was excellent, and we couldn't finish it even with the both of us.  We did polish off the Philly, and took the rest with us.  I had mentioned to Richie that because I know their food is so good, I wanted to sample a little taste of the meatloaf.  Richie brought out a big hunk of meatloaf, about a pound or so, chilled and wrapped in plastic for us.  We put it on ice and took it with us.  We had it that night for dinner, and it was crazy good; if not some of the best I've ever had.  I talked to Richie about putting a meatloaf sandwich on the menu and he said they are experimenting with it.  I was sorry we couldn't try the Italian sausage and peppers sandwich that was featured on the show, but we were very happy with what we ordered.  We loved the diner, the food is the best and the staff took great care of us, so Hullabaloo Diner also makes the list of my top ten favorite places in Texas (and that's no balooney).
We had one more stop to make for the day before we arrived at my friend's place in Dallas.  We headed up towards Waco and stopped to visit the site where the Branch Davidians were killed.  There is a memorial there and it is open to the public.
Next DDD Destination: Dallas    (DDD Count: 237)