Ken's Top Ten Favorite Shows on Food Network:
(in alphabetical order)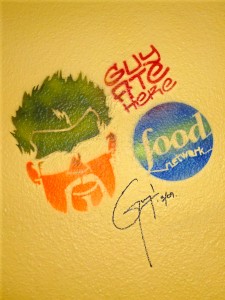 5 Ingredient Fix
Alex's Day Off
Chopped
Diners, Drive-Ins & Dives
Good Eats
Guy's Big Bite
Paula's Best Dishes
Secrets of a Restaurant Chef
The Best Thing I Ever Ate/Made
Tyler's Ultimate
Confessions of a Food Network Junky:
The celebrity I'd most like to spend a day in her kitchen with:  Paula Deen
The celebrity I've learned the most about cooking from:  Alton Brown
The celebrity I'd most like to cook in a restaurant with:  Anne Burrell
The celebrity I'd most like to be adopted by:  Guy Fieri
The Queen of food description metaphors:  Alex Guarnaschelli
King of Cool in the kitchen:  Tyler Florence
Secret Crush:  Claire Robinson
The celebrity I'd like to join to raid her fridge for a midnight snack:  Nigella Lawson
(The Queen of saucy metaphors)
Dynamo Award to the hardest working woman:  Rachael Ray
Dynamo Award to the hardest working man:  Bobby Flay
Favorite "That's how I roll" cooking style—woman:  Anne Burrell
Favorite "That's how I roll" cooking style—man:  Guy Fieri
Metamorphosis:  Alton Brown
Favorite Iron Chef:  Michael Symon (but I like them all)
Favorite Chopped judges:  Alex Guarnaschelli, Aaron Sanchez, Geoffrey Zakarian,
Scott Conant, Amanda Freitag, Chris Santos
The most glamorous and dazzling smile:  Giada De Laurentiis
Award for the biggest set of pipes:  Sunny Anderson
Secret Crush:  Claire Robinson
The celebrity I'd most like to play golf with:  Guy Fieri
(If he shoots 150, maybe I can beat him)
Cute as a Bug's Ear Award:  Marcella Valladolid (Okay, a really sexy bug)
Best big-hunk-of-meat slapping award:  Anne Burrell
You've got recipes coming out of the wazoo award:  Rachael Ray
Best Customer Appreciation Award to the Food Network from the Manufacturers Association of tall glass bowls with straight sides and narrow squared-off bottoms.
Fellow motorcycle rider and airplane pilot award (those of us who like to go wherever we want, however we want, and do it in style):  Alton Brown  (I know Michael Symon rides, but I don't know if anyone else rides or flies.  Guy Fieri is into some serious American Muscle, so I'd be surprised if he doesn't have a hog or two.)
Secret Crush:  Claire Robinson radiates style, Southern charm and her passions for cooking, eating, entertaining and having good times.  You've just got to love a woman who says it makes her happy when her kitchen smells like bacon.  She can't help it if she's an exotic beauty with stunning good looks, big expressive eyes and full luscious lips.  She's married as far as I know, so her husband must be one lucky guy.
Worst Ideas for New Shows:
29 Minute Meals
Soup Kitchens, Bread-Lines & Dumpsters
Fry Naked
Secrets of a Restaurant Health Inspector
Chipped
Throwdown with Pee Wee Herman
The Best Thing I Ever Ate at a Gas Station
Alton and Ina Make A Porno
Down Home Dishes made with Love and Textured Vegetable Protein
$40 a Month
Nigella Jiggles
How to strain chicken stock in zero gravity
How to make yummy low-cal, low-carb, sugar-free, fat-free chocolate chip cookies
Most Dreaded Chopped Baskets:
Pig feet, wild rice, Worcestershire sauce, marshmallow cream
Puff pastry, sardines, mint chocolates, rutabagas
Sea Urchin, red wine vinegar, Brussels sprouts, chocolate chip cookies
Beef tongue, rolled oats, condensed cream of mushroom soup, peaches
Cotto Salami, orange sherbet, spaghetti squash, Sriracha
Corn flakes, ricotta cheese, octopus, dill pickles
Pig brains, pomegranates, pretzels, maple syrup
Chicken gizzards, leeks, limes, caramel corn
Maine lobster, bananas, Panko bread crumbs, demi-glace
Frisee, candy corn, canned clams, chile oil
Molasses, quail eggs, eel, cranberry sauce
Sheep head, quinoa, shredded coconut, truffle oil
White chocolate, pastrami, canned spinach, sunflower seeds
GMO Soybean Oil, High Fructose Corn Syrup, Textured Veg. Protein, Artificial Flavors
Stay tuned for more…
I would love to go on Chopped if they ever made a version for home cooks.  I could hear the judges now, "Thanks for competing today.  We'd like to compliment you on your selection of plates, but as far as the food goes… we didn't care for any of that.  It was ambitious to try to make a Cajun flavored ice cream with foie gras and clam shells as an appetizer, but it was ill conceived and poorly executed.  My palate is shot for the rest of the day and one of the other judges was sent to the hospital.  We're still trying to figure out how it came out green or why it had fish bones.  For these reasons, we had to chop you."
The celebrity chefs who I'd most like to cook for me:
Breakfast:                             Alex Guarnaschelli (PG rated version)
Soup & Sandwich:               Rachel Ray
A Burger:                              Bobby Flay
A Steak:                                Alex Guarnaschelli
A Pizza:                                Guy Fieri
Chili:                                      Bobby Flay
Tacos:                                   Marcella Valladolid
Barbeque:                             Guy Fieri
Fish & Chips:                        Robert Irvine
Anything Southern:               Paula Deen
Anything Mexican:                Aaron Sanchez
Anything Italian:                    Anne Burrell
Anything French:                  Alex Guarnaschelli
Anything British:                   Nigella Lawson
Anything Greek:                    Michael Symon
Anything Asian:                    Tyler Florence
Anything Cuban:                  Guy Fieri
Anything Cajun:                   Emeril Lagasse
Anything Indian:                   Trick Question
Anything with Pork:              Michael Symon
Anything with Wine:             Michael Chiarello
Anything with Pasta:            Scott Conant
Anything with Butter:            Paula Deen
Anything simple:                  Claire Robinson
Anything sophisticated:       Geoffrey Zakarian
Anything grilled:                   Bobby Flay
Anything cheesy:                 Sunny Anderson
Anything healthy:                 Alton Brown
Anything sweet:                   Paula Deen
Do you have a favorite celebrity chef?  Ask yourself this:  If you could pick only one chef from the Food Network to cook all your meals for the rest of your life, who would you pick and why?
Okay, it's never going to happen.  It's only hypothetical and proves that I've got way too much time on my hands, but here goes:
Before the metamorphosis, I might have said Alton Brown.  Now he's just too funky for me (e.g., I like my beef stroganoff to actually have beef in it, call me crazy.)  Michael Symon is like a wizard.  It seems as though there is nothing the man can't whip up into a masterpiece and do it in high style.  I totally dig Guy Fieri's culinary point of view; righteous food with some kind of a kicker or exotic twist.  Bobby Flay seems to be the undisputed master of chiles, southwestern flavors, grilling, and hamburgers—all of which I dearly love.  Besides being a knockout, Claire Robinson is mastering the art of highlighting simple flavors and doing it with Southern style.  I very closely identify with Tyler Florence in terms of taking a dish and making the ultimate of its kind.  It's hard to believe that there is anyone who I'd pick over him.  He's probably forgotten more about cooking than I've learned.
The last Next Iron Chef was an eye opener for me.  I never really knew what to make of Geoffrey Zakarian.  Now that he is an Iron Chef himself, I never cease to be amazed by him.  That man can cook.  In a similar vein, Michael Chiarello is an incredible chef.  I also like Aaron Sanchez, but I never get to see him cook.  We're not seeing much of Jose Garces either.  (Note to Food Network: Can we see more Mexican food cooking shows?)
At these levels, I'm not even close to being qualified to rate these chefs; but I'm happy enough to have my opinions (and write about them).
I love Anne Burrell and can never say enough good things about her.  I know her from her cooking and love of food.  She is my favorite teacher, and I dig her style.  Her cooking impresses the hell out of me, and she knows how to bring it in the restaurant.  What can you say about a woman who leaves the comfort of home and travels all the way to Italy to cook in a village kitchen on a wood-fired stove?  No wonder she's a Rock Star.
I want to give an honorable mention to everyone else on the network who didn't get specifically named.  Everyone has lots of good food and recipes that they have contributed.
I could drive myself loony trying to pick between all the people I've written about so far.  There's so many great people to choose from.  After much reflection though, there is one chef who edges them all out for me.  A chef who is a master technician, artist, and who seems to love food even more than I do (which is hard to imagine).  The chef whose palate seems to be most closely matched to mine.  Alex Guarnaschelli.  I love to watch her as a judge on Chopped, and I love to watch her even more on The Best Thing I Ever Ate/Made.  But what really blows me away is watching her cook on Alex's Day Off.  The way she talks about food, picks out her ingredients, describes the way her kitchen smells, and how she lights up and tells her stories.  I love the look she gets on her face when she's eating something really good.  It's priceless.  Claire Robinson gets the same look.  It's the proverbial money shot, as if to say, "Are you kidding me?"  It's good to see Alex on Iron Chef America, but I'd like to see the Food Network give her another show of her own (or pick up more seasons of Alex's Day Off).  She's so talented and entertaining, it would be fun to watch her make a peanut butter and jelly sandwich.  I wonder how she makes macaroni and cheese?  I wonder if she'll win the Next Iron Chef-Redemption?  She's obviously good enough, but the competition is fierce.
Update:  Congratulations to  Iron Chef Alex Guarnaschelli.  Alex battled her heart out and prevailed in battle Redemption.  It will be thrilling to watch her compete in Kitchen Stadium.  I'm delighted Alex won, especially since I am so fond of her already, but the finale was so close, I would have been happy for Amanda Freitag too.  She's an awesome chef.  On a similar note, I developed a whole new level of appreciation for Elizabeth Faulkner and was sorry to see her go. She went out just like Anne Burrell (who was notably absent from the competition).  That "advantage" seems to be the kiss of death.  I hope to find out why Anne wasn't in the competition.  All in all, it was just an amazing collection of talent and it's hard to believe the judging at that level.  I was rooting for Alex from the beginning and I'm thrilled for her victory. I can only imagine for her that it must be a life changing event.  Bravo.
Update November 2015:  This feature was originally written in 2012 and last updated in January 2013. We sold our house in the spring of 2014 and I relocated to Colorado in the fall.  I've not been watching television for the last year and a half, and except for the Food Network (and Shark Tank), I don't miss it.  But I have a video library of hundreds and hundreds of all my favorite cooking shows.  I also have a big library and a shelf full of cookbooks from all my favorite Food Network stars.