Calling all Freedom-Loving Americans:
If you love America and believe that it is still the greatest country in the world, it will shock you to see how our way of life is under attack. It's going on right here, right now. If we don't stand up for our rights and our freedoms, we will lose them… one way or the other.
Don't wait until it's too late. The time to act is now. Get the information and the tools you need in this easy-to-read, non-political book; and learn what you can do to make sure we don't lose our liberty, our freedoms and our way of life.  Protect yourself and your loved ones.
There are decent and honest hard-working Americans… and then there's everyone else. Whether it's a lust for power, greed, jealousy, envy or plane old insanity, there are millions of people right this minute who are working and conspiring to take away our rights, property and freedoms. Many are right here at home.  If we don't stop these people (and do it before it's too late) who can say what will become of our once great nation?
Now more than ever, we need to remember that freedom is not free.

100% Money Back Guarantee:  If you're not delighted with e-book for any reason, your money will be cheerfully refunded.
Product Description:
PDF File, 197 pages (8.5 x 11), 31 images, 77,148 words, FK Score 8.5
Freedom Or Forfeit: The Fate Of America, First Edition
Book Three of the Acting Big Book Series
Copyright © 2012 Ken Holloway
$7.95
When bad men combine, the good must associate else they will fall one by one,
an unpitied sacrifice in a contemptible struggle.  ~ Edmund Burke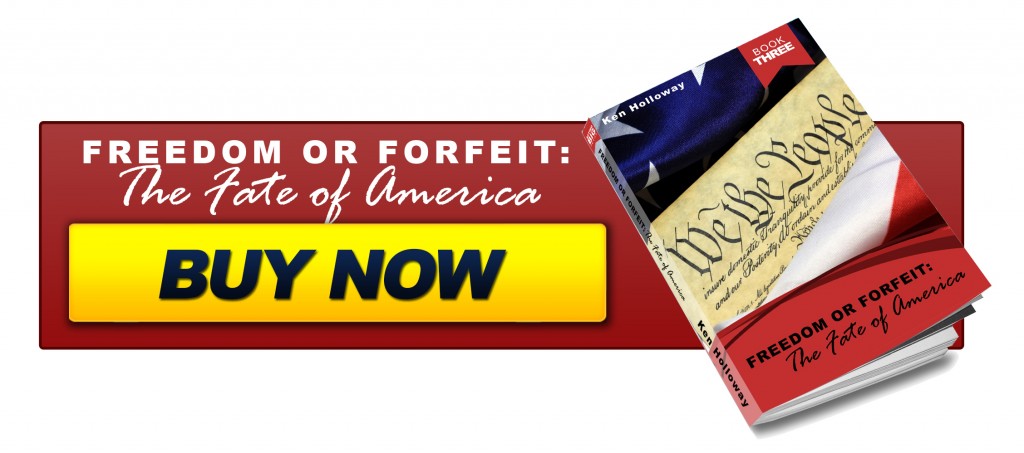 Reviews & Comments:
An excellent primer on the Liberty Movement… loved it. ~ Dave Champion
Right on point. ~ Devvy Kidd
Thanks Ken for sharing this excellent book with me.  You really hit it out of the park!  Freedom or Forfeit is a must-read for anyone who is uncertain of what America is truly about.  You have managed to articulate my thoughts and beliefs about Life, Liberty and this awesome country of ours.  I hope your book will cause a tidal wave of believers in this great experiment called America who will stand up and say, "Enough!  We want our country back!"  ~ Chuck Grape, Henderson, Nevada
Right on Ken.  I am recommending Freedom or Forfeit to all my friends and hope they will enjoy it as much as I have. Our freedoms are being taken away a little at a time, right in front of our noses!  We have to spread the word and educate as many people as possible. We have to win our country back before it is too late. There are far too many people out there who spend all their time working to put food on the table and struggling to make ends meet. Your book could really make a difference. It was easy to read and should be a great tool for those who are busy and pressed for time. Freedom or Forfeit is spot-on. Thanks so much for the great read. ~ Celeste Stallings, Kernville, California
Ken, I just finished reading your book and I can't tell you how much I liked it.  Not only do you list the problems with big government but you offer solutions.  Your points are well supported, easy to understand, and I found myself agreeing with you page after page.  It looks like you've put a lot of thought and research into this book and I'm looking forward to sharing it with my family and friends.  ~ Shane H., Sneads Ferry, North Carolina
As always you hit home on very good information that so many people are ill informed about and have the wrong impression about. Our government creates a big business out of millions of poor people who are uneducated and have no interest in teaching their children to be responsible; people who don't understand what is happening because they are operating on blind faith (or have given up hope).
I really am grateful to read your books. You are an excellent author who genuinely cares about informing the American public. ~ Page S., Denver, Colorado