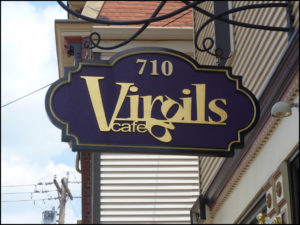 This is a welcome sign indeed for anyone who is fortunate enough to discover the amazing talents of Matthew Buschle, chef and owner of Virgil's Cafe.  Nestled in the picturesque shopping village known affectionately as Fairfield Avenue, Virgil's Cafe is a welcome destination for all of northern Kentucky and the greater Cincinnati area.
Note: we shopped through all the businesses on Fairfield Avenue and had a ball.  We met lots of interesting people, bought some dishes, had some ice cream, took in some art galleries, a tea shop, a nursery, gift shops and more.  Being an area local, Matthew must love Fairfield Avenue too because that's where he wanted to build Virgil's Cafe.
I had the pleasure to dine at Virgil's Cafe and I fell in love with the place. Located in a building that's over 100 years old, the first thing I noticed was the old-world charm. The dining rooms are intimate, with linen table clothes, wood floors, high ceilings with crown molding. The feeling is elegant, yet casual and comfortable.  Upon entering, one can't help but notice the spectacular full bar, which comes in handy for all the revelry and special tasting menus with beer, wine or spirits.  The place is utterly charming and it did not come as a surprise to find out that in addition to being a culinary wizard, Matthew also has a background in design and the arts.  It took years, lots of hard work, and a great network of friends who pitched in to bring it all together; but Virgil's represents Matthew's vision to share his love and passion for great food and service in a great atmosphere.
With the support and love of his wife Angela and daughter Nelleh, Matthew created this restaurant as an integral part of the local community.  His culinary plan is to buy local and network very closely with area growers and producers to everyone's mutual benefit.  One of the standout qualities about Virgil's Cafe is their in-house freshly baked breads; of which Matthew also provides for other local restaurants. They also have a garden. There can be no doubt that Virgil's Cafe was created to establish deep roots in the community and I respect that immensely.  You'll find Matthew giving cooking demonstrations at local farmers markets.  It's not just about giving back, it's about raising the whole community.
Matthew's vision paid off and he became a sensation once people discovered the place. Virgil's Cafe opened March 6, 2009, and within the first year it was featured on the Food Network's Diners, Drive-Ins and Dives, starring Guy Fieri.  Matthew and Guy made some smoked andouille sausage from scratch and built one of his signature mouth-watering dishes—Etouffee (see video).  Guy was treated to an order of perfectly cooked frog legs (which come with cheddar and jalapeno hushpuppies and a pinot grigio aioli).  Guy loved the food and was happy to proclaim Matthew as a total rock star (and that's saying a lot because Guy has friends who actually are rock stars).  You can watch the show right on the website for Virgil's Cafe.  A few other delectable goodies were showcased such as his homemade country sausage with biscuits and gravy Napoleans, and the fact that he makes just about everything from scratch, including his own pastrami.
The star of every restaurant is the food and Virgil's Cafe is good enough to be on Broadway. Speaking just for myself, I've eaten his food, I've watched him work, and I've studied his menu.  Virgil's features such an incredible array of spectacular culinary creations, it would be like touring Willy Wonka's factory to a chocolate lover. Matthew is an artist who makes inspired dishes that are the finest of their kind.  The menu features a tantalizing selection from such items as Creole Shrimp with Cheddar cheese grits, fresh pasta, pork chops with apple and sage spoon bread, and an amazing creation called Poutin Au Poivre, which is "Hand cut steak fries, topped with Gruyère cream, caramelized onion, and pepper crusted beef sirloin, covered in a red wine and roasted shallot demi-glace."  Shut up.  Don't forget the amazing sandwiches, house made potato chips, fabulous soups & salads, or mushrooms confit.
There's other fabulous items on the menu (which is available on-line).  As if the choices weren't already hard enough to choose from, Matthew also offers irresistible specials such as Steak Pot Pie with caramelized onions and chiles.  You can be notified of all the dishes Matthew has working in the kitchen because he posts them on Facebook.  I'm sure it would be impossible to eat there often enough to get tired of the food (although I would love to give it a shot).  I don't know why the food is so good, I just know that it is and I suspect it's because he's a Wizard.  Take the humble cheeseburger for example.  Matthew starts with a custom blend of fresh ground beef*, seasoned and cooked to perfection, topped with grilled onions and mushrooms (to intensify that umami experience), Cheddar cheese, and then serves the burger on his own house made Kaiser roll which is fresh out of the oven and melt in your mouth scrumptious. You put all that together and it's a show stopper.  Want more?  How about topping the burger with bacon, pastrami or a fried egg?  Did I mention pork belly or the Cubano sandwich?  I have no doubt all of the food is crazy good and to anyone who lives close enough to dine at Virgil's Cafe regularly, I'm green with envy.  *The custom blend is 50% chuck, 25% brisket and 25% short rib.  I've got two words for that… in sane.  (You read it here first.)
Obviously there are lots of good restaurants with good food, but Virgil's Cafe is truly a cut above.  There motto is "Food Beyond Fare" and they deliver the goods.  Check out the website for all the latest and greatest events, swanky soirees, specials, menus, reservations, gift certificates, catering, videos and more.  As I write this, the garden is open and that offers some great outdoor revelry and al fresco dining.  Be sure to get notified of the upcoming special tasting menus and specialty holiday dinner events.
Virgil's Cafe is my first showcase feature, and I am honored that I get to share that distinction with Matthew.  I dig the restaurant and the neighborhood, and I could never say enough good things about the fantastic food.  But more than all of that, Matthew is a special guy with a big heart and an inspirational love for life that he shares with the world through his humble cafe.  It's not about money… it's about doing what you love.  It would be far easier to be an executive chef for a huge restaurant, and enjoy a big salary, benefits, job security and financial freedom.  Matthew walked away from all that because he had a vision to create Virgil's Cafe.  It's not just a place to eat and drink, it's a gift.